Toilet Paper Roll Bumble Bee Craft
All art projects & crafts require adult supervision. This post may contain affiliate links. Read our full disclosure policy.
One person's trash is another persons treasure. This is true for toilet paper rolls! Everyone in my household knows not to throw away toilet paper roll. There are so many fun crafts you can do with toilet paper rolls. If you like this craft, be sure to check out more Toilet Paper Roll Crafts Here.
Toilet Paper Roll
Yellow Paint
Black Paper
Black Pipe Cleaner
Wiggly Eyes
Coffee Filter
Black Marker
Scissors
Glue
Paint the toilet paper roll yellow and let dry completely. Repeat a couple of times to give is a solid coat.
Don't have yellow paint? You can also wrap the Bee with yellow paper. Measure out the length of the toilet paper and cut the yellow paper to size. Glue the yellow paper to the toilet paper roll with a glue stick.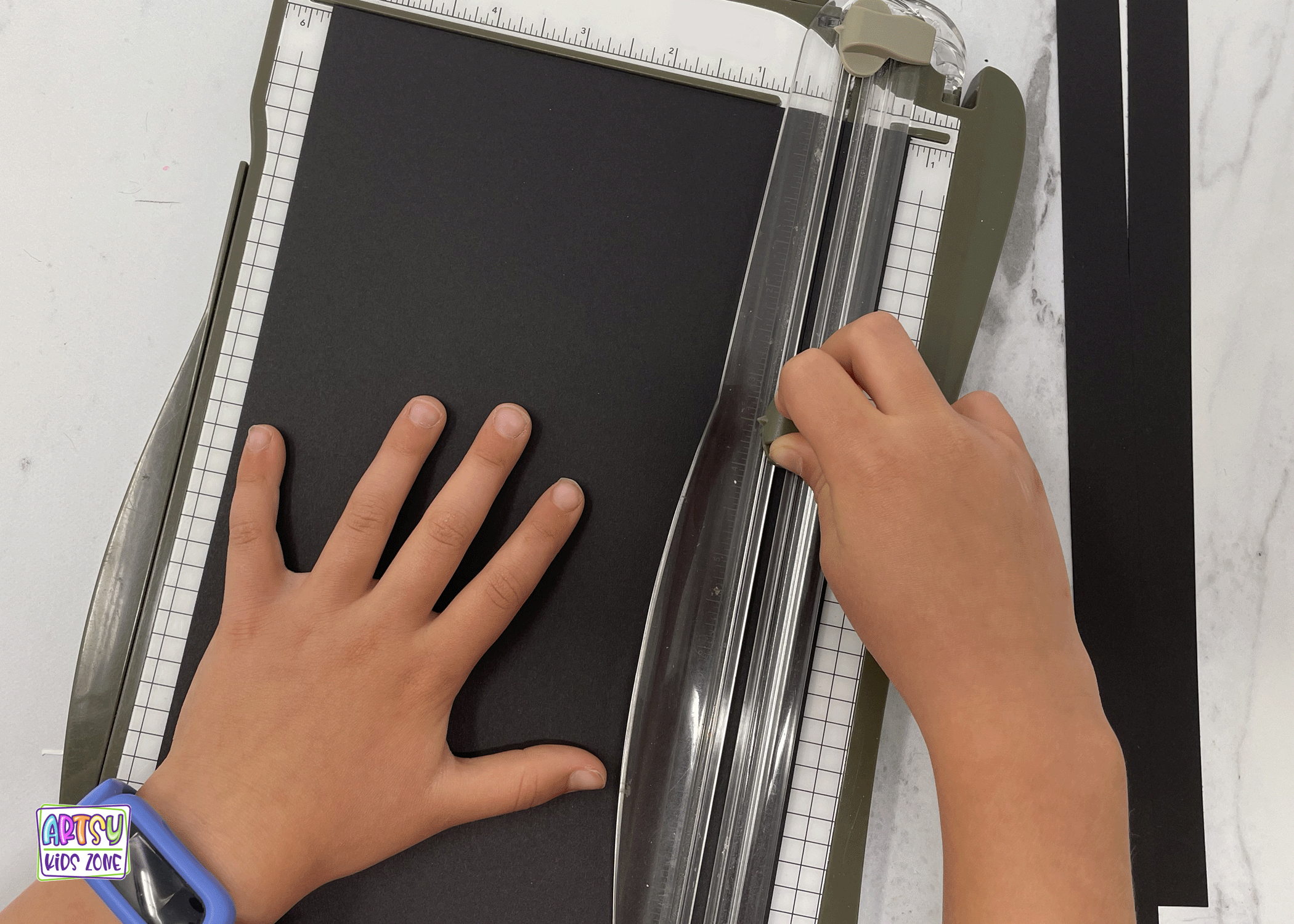 Cut the black paper into two 3/4 inch strips. You can use a paper cutter like this or measure it out with a ruler, mark it with a pencil and cut it out with scissors.
Glue the two strips of black paper around the toilet paper roll. I used a glue stick to do this.
Cut the excess paper and glue the edge down.
Using Elmer's Glue to put a dot of glue on the back of two wiggle eyes and attach it to the toilet paper roll above the black stripes. You can play around with different sizes of eyes. Glue the same size or mix and match different sizes to add a goofy look to the Bee.
In between the eyes, draw the mouth with a black marker. You do this by drawing a half circle or a "U" shape.
It is now time to make the wings. I believe that Coffee Filters make the best wings. I have used coffee filters to make wings for bats, Butterflies and more!
Fold the coffee filter like an accordion or fan. For this project, you do not need to worry about having exact or even folds. Start by folding the coffee filter in half. Take the top half and fold it back and forth until it is completely folded. Flip it over and repeat for the second half of the filter.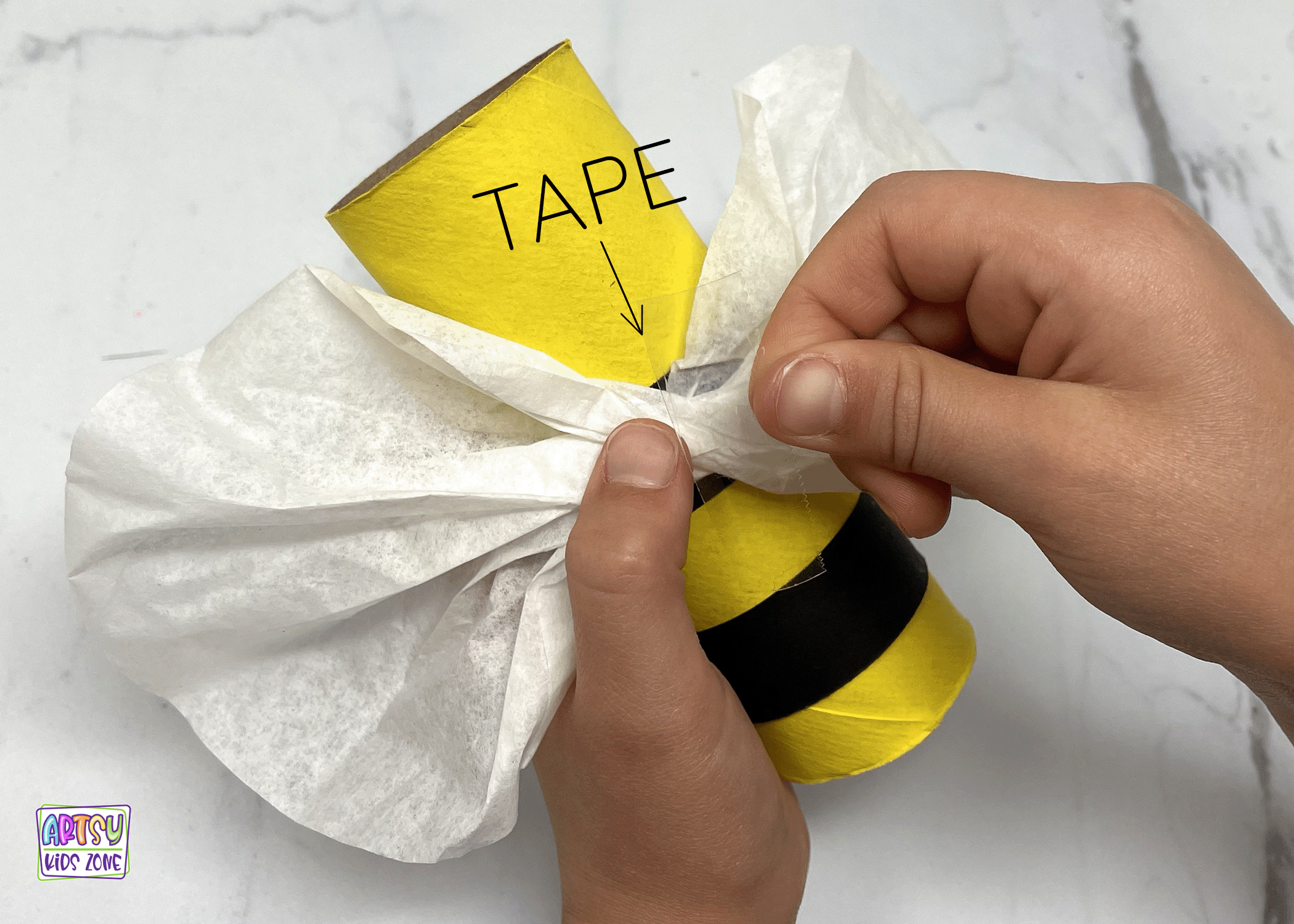 While the coffee filter is still folded. Attach it to the back of the Bee. You can do this with a piece of clear tape or by using a glue gun.
Safety Tip: Glue guns are hot and are not safe for kids to use. Only an adult should do this step.
The Toilet Paper Roll Bumble Bee is almost complete. It is now time to add the antennas. Take a black pipe cleaner and fold it in half.
Tape or hot glue the pipe cleaner to the inside of the toilet paper roll with the ends sticking out of the top.
Take a pencil and wrap the pipe cleaner around it so that it curls.
There you have it! A Bumble Bee made out of a Toilet Paper Roll. I hope you have had just as much fun making these as I did with my kids!
Love this craft? You might also enjoy these ideas: